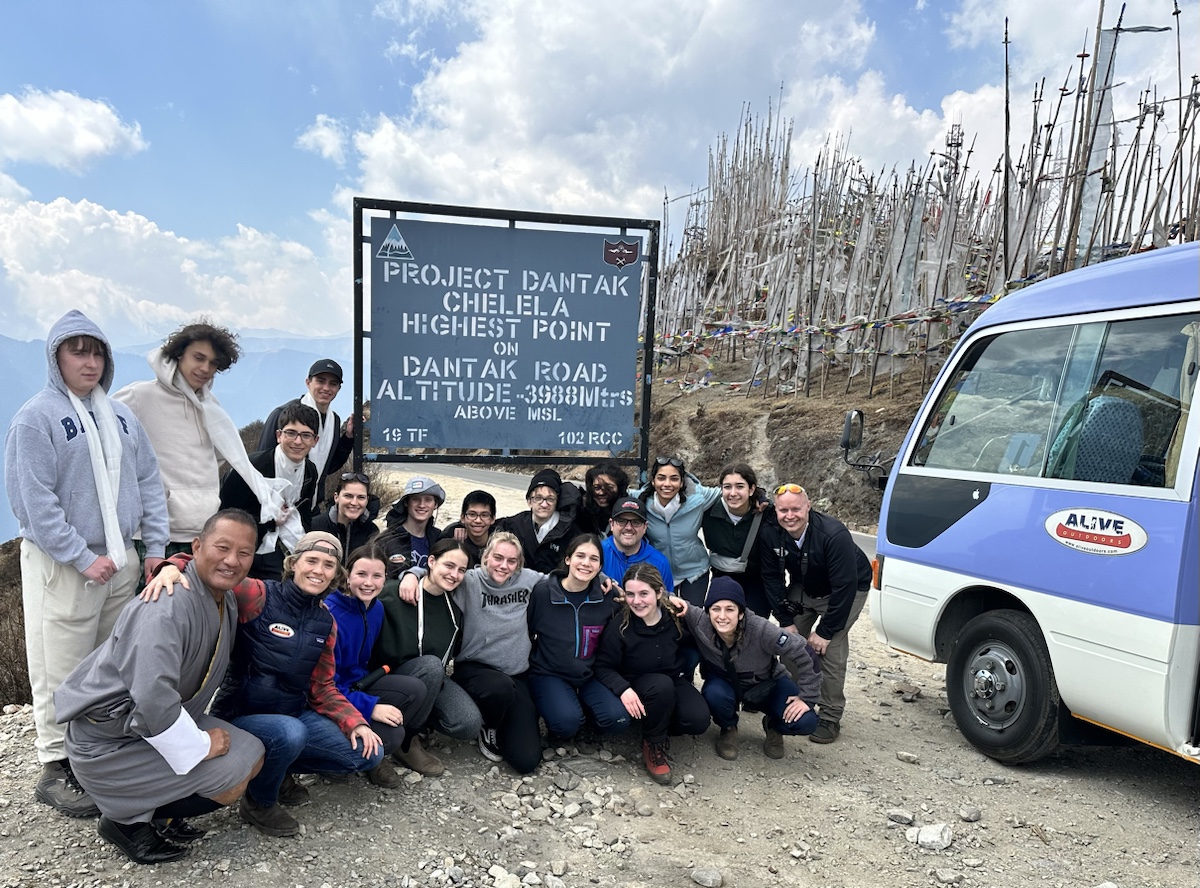 Today felt like a whole week of experiences all fit into one day. We started early in the morning flying out of Bangkok, Thailand as a big group, our four-hour flight had one scheduled stop for fuel in Dhaka, Bangladesh. Flights in and out of Bhutan regularly stop in and out of the Himalayan Kingdom as fuel prices are much cheaper in surrounding countries that have seaports.  Once we took off from Bangladesh and the lowlands we very quickly could see the fast-approaching Himalayan mountain range off in the distance. 
Our flight into Paro, Bhutan was incredible, for everyone sitting on the left-hand side of the plane and were fortunate enough to have a window seat we were greeted with a clear view of both Mount Everest (Chomolungma) and Lhotse, the highest (8,848m) and the fourth highest (8,516m) peaks in the Himalayas. As we got closer to the range we had an amazing view of Kanchenjunga (8,586m) and the Kanchenjunga Range which stood out clearly with its massive size and snow-capped summits.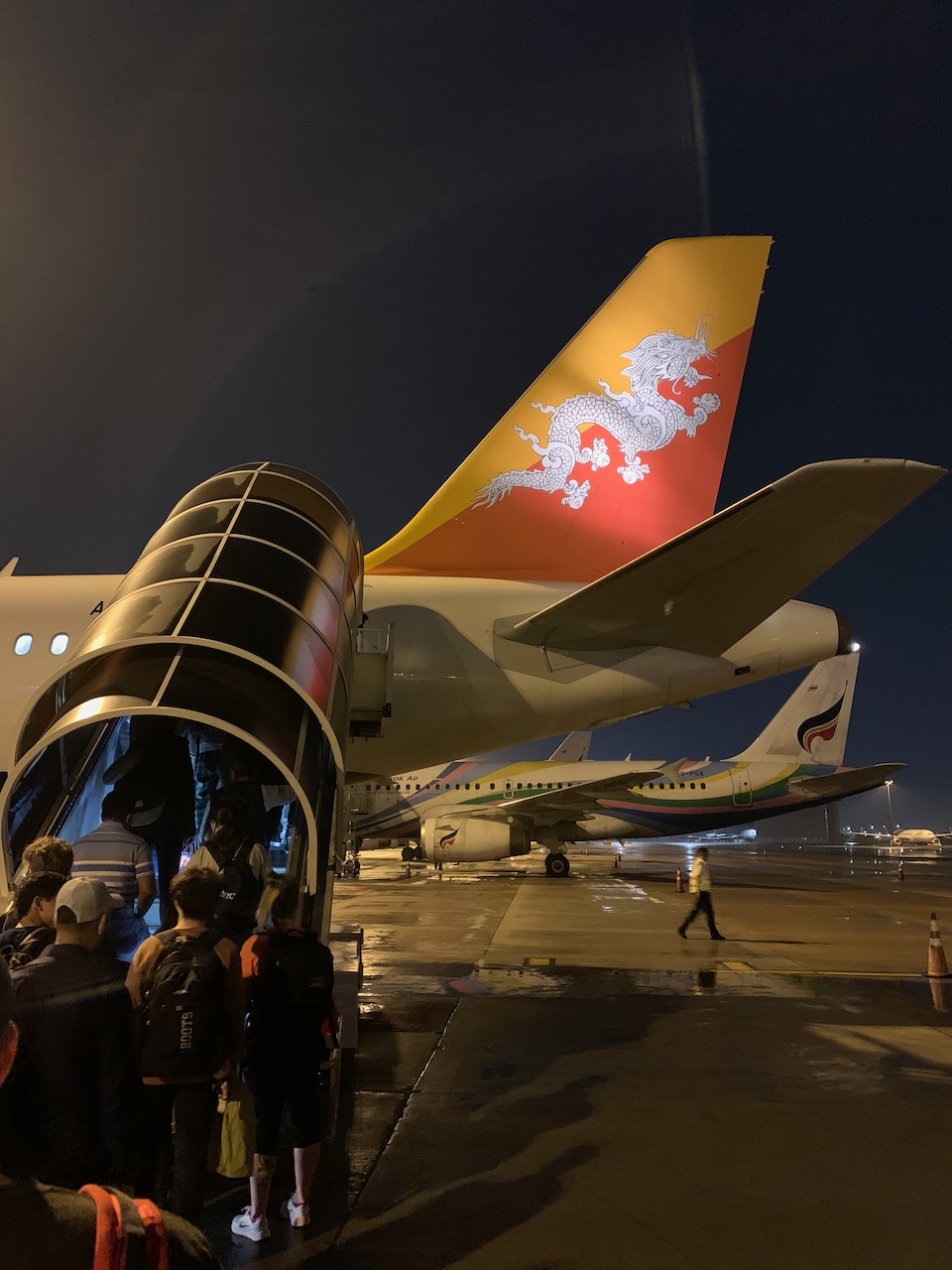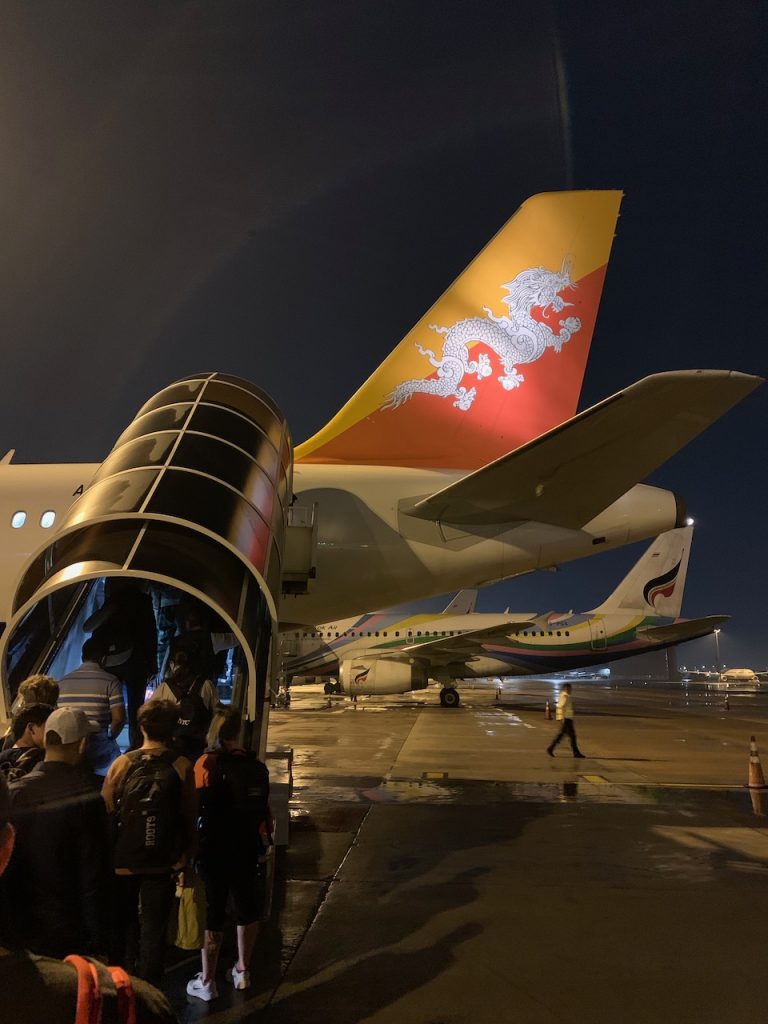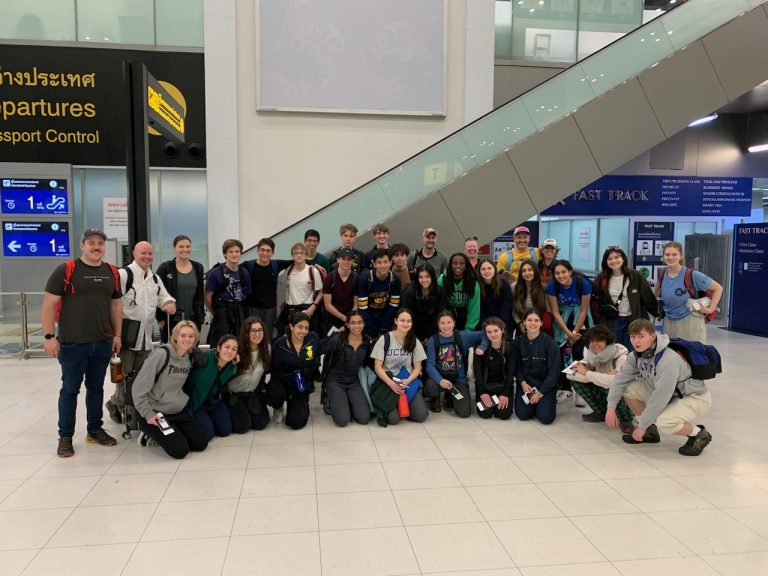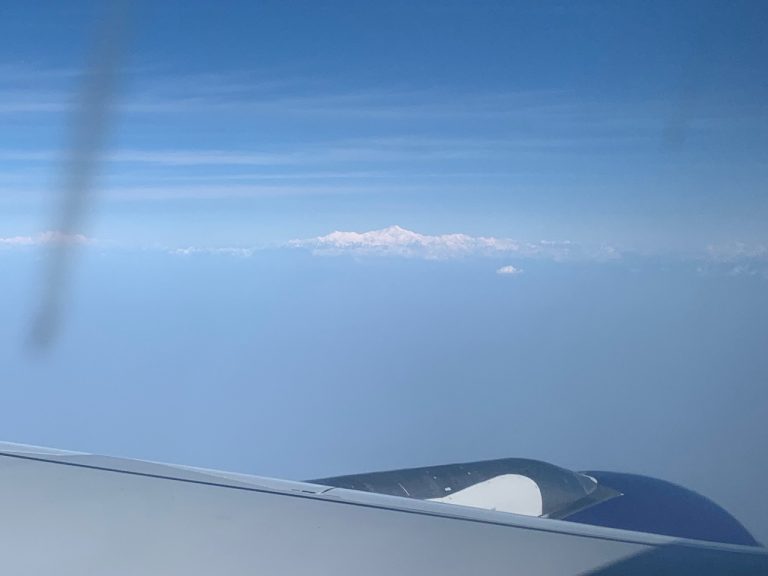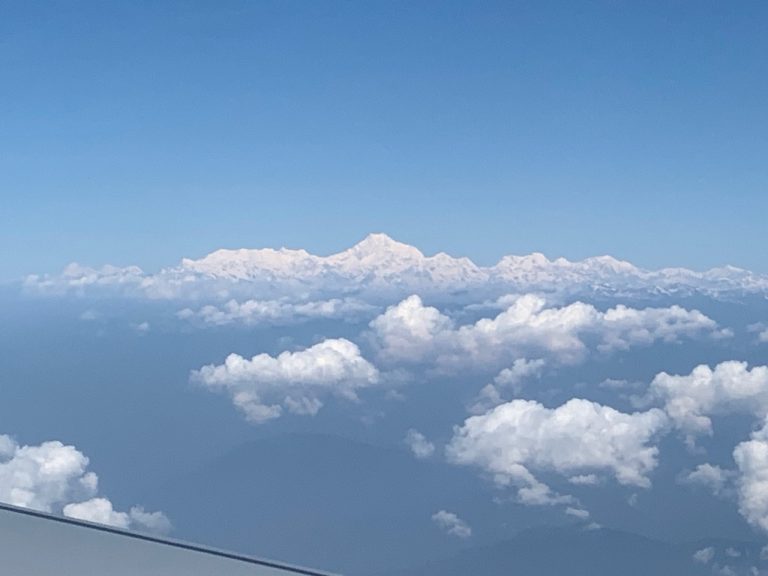 Once we arrived into Paro, Bhutan our jam packed day started with a picnic in the park near the river with traditional tea and snacks, it didn't hurt that we had a 360 degree view of the mountains and river that served as the backdrop for our first impressions of Bhutan. We then all loaded into our bus with of guide Karma and driver Leki for a three hour drive over the Chelela Pass (one of the highest road passes in Bhutan) on our way to the Haa Valley and the location of our hotel and first night in Bhutan. The road towards Haa hugged the mountain side and provided us with a deep appreciation for the impact of the preservation edict in Bhutan. We passed through micro climates on our way to the pass we were surrounded by lush Blue Pine forests and Rhododendron that were just beginning to bloom as it is Spring in Bhutan. Bhutan's forests amazingly support over 45 types of Rhododendrons!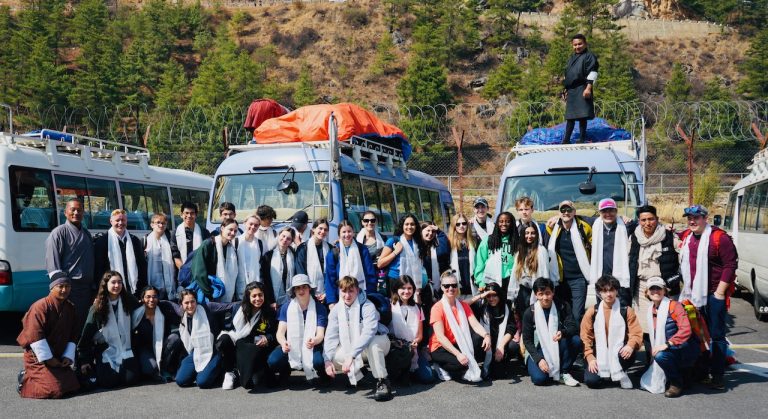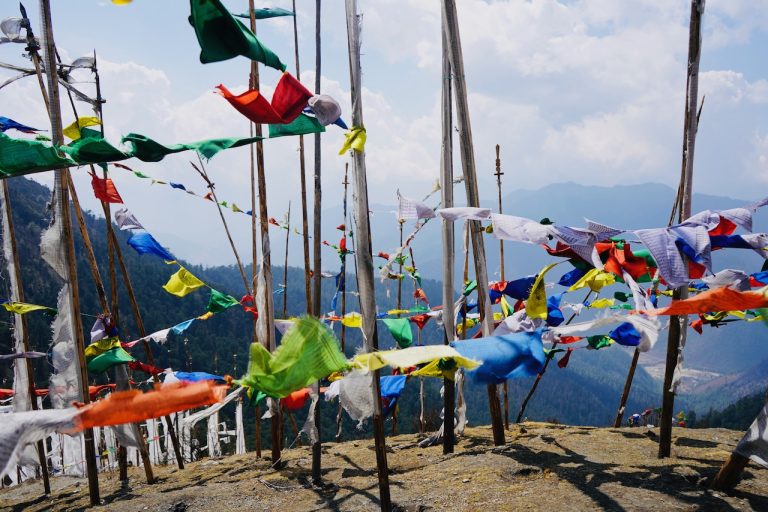 When we arrived at Chelela Pass we witnessed the forest fall away into an alpine environment that often sees year round snowfall. All high mountain passes in Bhutan are sacred sites which are abundantly adorned with prayer flags (colourful cloths that have prayers written on them) and Manidhar's (tall white prayer flags constructed for loved ones who have passed). As these prayers flutter in the wind they continuously send these prayers into the pure wind that always blows at these high places. We are very quickly getting immersed into the culture, history and authenticity of Bhutan.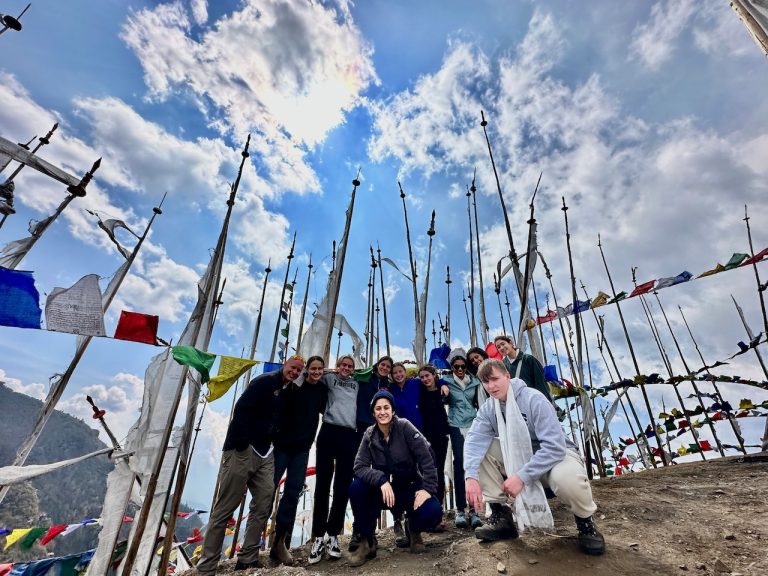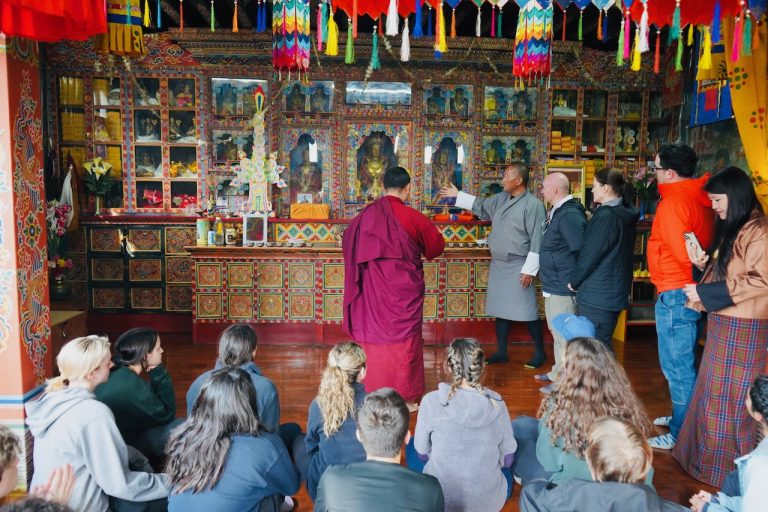 I (Sarah) was personally astonished by the level of hospitality we received when we arrived in Bhutan, from personally receiving a Khata at the airport from our guide to being blessed in a ceremony by a monk in the families home attached to the hotel we are all staying at in Haa. As Canadian's we so often get told that we are such polite and welcoming people, so far Bhutan's warm embrace of us all has been eye opening and deeply sincere. 
As we all rest our heads today, we cannot help but fight the tiredness due from our lengthy travel to get here, but with our first day in Bhutan coming to a close, the remoteness gives such meaning to the cultural traditions, rooted values and incredible backdrop of mountains, rivers and forests that we get to call home for the next week.