CURRENT POSTINGS WITH ALIVE
JOIN THE 2022
ALIVE COMMUNITY
A Community Dedicated To Excellence in Education
Working With ALIVE Outdoors
We Are Looking For Dedicated Individuals
The culture of an organization is often difficult to articulate in words. It needs to be felt.
We invite you to join the experience. We are highly dedicated to ensuring each member of our team feels valued and supported to be themselves. We believe that it's the people that have united over the lifespan of ALIVE that have shaped this organization and helped thousands of young people learn to thrive. We are clear about what we stand for, what we are working to improve and what impact we can have. The world is changing and will continue to do so, but identifying core values, personal strengths and timeless principles, will forever be required to lead a purposeful, content and engaged life.
ALIVE offers various positions designed to help each instructor's professional growth.  
 Start with what you are qualified for, then push yourself to expand your skill set. We are always learning from one another.
In-Camp Outdoor Educators & Activity Instructors
Wilderness Canoe, Hiking & Winter Camping Instructors
Workshop Facilitators
Lead Facilitators
Virtual Program Facilitators
Nurses, Doctors & Paramedics
In-Camp Outdoor Educators & Activity Instructors
In this position you will be working in a camp/outdoor education centre environment.  Responsibilities include facilitating activities in which you are qualified and connecting them through debriefs to the theme of the program. This position may also include a one night overnight camping experience and helping facilitate workshops.
Sample Fall activities: canoeing, nature connection/small hike, high ropes and climbing wall, team building activities, kayaking, backcountry skills, cooking, artistry, stand up paddle boarding, waterfront activities.  
Sample Winter activities: cross country skiing, snowshoeing, winter ecology, building and sleeping out in Quinzee snow structures, tobogganing.
Wilderness Canoe, Hiking & Winter Camping Instructors
Workshop Facilitators
Lead Facilitators
Virtual Program Facilitators
Nurses, Doctors & Paramedics
Reflections From Past Instructor Experiences
Technical skills are important for many positions at ALIVE, however, we value soft skills over hard skills and believe that your ability to reach, read and inspire a diverse group of clients comes with life experience and maturity.
Now Accepting 2022 Winter, Spring and Fall Applications
We are looking to unite a team to work at various locations in Ontario.
Due to COVID-19 our 2021 Fall season will function differently.  We are looking for instructors to facilitate virtual programs as well as programs based in Toronto neighbourhoods, greenspaces and school campuses.  Some programs may just be virtual while others will have a hybrid design.  For example, 2 days on school campus, one day virtually, 2 days in community greenspace or ravine. Be in touch to learn more about how to become involved.
Explore our 2022 Programs
CURRENT POSTINGS WITH ALIVE
JOIN THE 2022
ALIVE COMMUNITY
Bring your skills to a virtual platform. It works!
I just finished working my first Connectival program and I have really good news. It was fantastic. If you were like me, and feeling a little skeptical about "Online Outdoor Ed" work. Don't be. Today all my skepticism was pushed aside. All of the instructors were able to created fun and strong connections with our groups! It's more than possible to make this meaningful! ~ ALIVE 2020 Virtual Program Instructor
We strongly believe that the outdoors is for everyone
At ALIVE Outdoors we believe that all backgrounds, strengths and talents have a place in the outdoor classroom. We value experienced and qualified instructors to teach technical outdoor skills, as well as people with strong interpersonal abilities. We also value people whose primary strengths are not technical, but have skills, interests, and values that can be weaved throughout our programs, such as artists, musicians, cooks, and naturalists (as examples). The foundation of our unique programming and strength as a team is a result of our approach to hiring and working with instructors who bring more than outdoor skills to the work they do.
We are encouraged and continue to learn from organizations doing critical equity and inclusion work to reclaim and increase representation and accessibility to outdoor spaces for all people.
ALIVE Instructors have open minds and are inspired to collaborate and learn from people who have come to the ALIVE team from various paths.
At this time, we feel that no programming can be set in stone. As the landscape of COVID-19 continuously changes, so does our programming. We are committed to upholding thorough and current COVID – 19 Practices and Policies.
Health, Safety & Risk Management
Learn More About Our Health & Safety Information for Parents, Educators & Instructors.
Progressive Risk Management Is The Foundation of Our Decision Making, Program Design, & Business Ethics.
Frequently Asked Questions
A Day In The Life Of An ALIVE Instructor
We have included two sample "Day In The Life" for our Canoe Trip Programs and In-Camp Programs to help you better understand what working with ALIVE Outdoor will entail.
Spring/ Fall Day In-Camp Program
Canoe Trip Program
Spring/ Fall Day In-Camp Program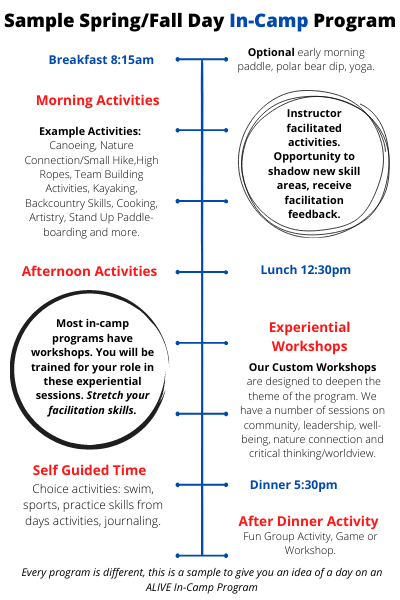 Canoe Trip Program
We believe that small moments have big impacts.
There is great power in the "small things."  We believe smiles, learning names, and quiet one-on-one conversations to be important parts of all our adventures. 
Lantern Posts From & For ALIVE Instructors
How were we going to build community amongst students when they cannot be in the same place? Once reality kicked in for us last spring, we headed to the drawing
For the past three Wednesday nights, ALIVE Instructors from many different generations have gathered on Zoom to catch up, show support for one and another and of course, laugh. This
In the summer months of 2016 ALIVE instructors Jackson Moores, Emily Cole, Benjamin Scott and Julie Bremner will embark on a sea kayak expedition traversing the Western Canadian Arctic. The