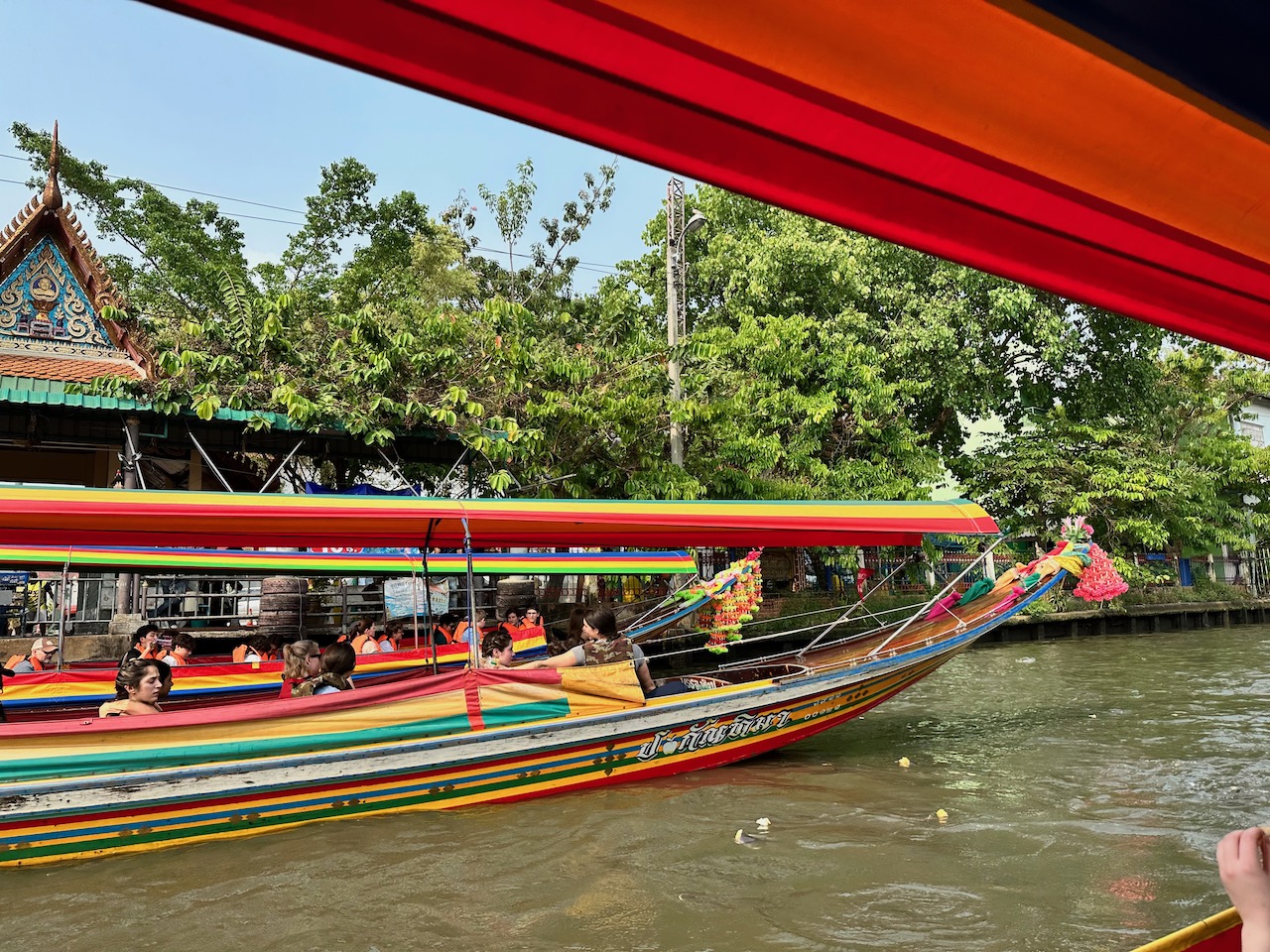 With only a few hours to spend in Bangkok, Thailand we got to our hotel in time for a breakfast buffet, a quick shower, and short naps. After lunch, we set off for a few hours to see what makes Bangkok "the city of angels". We started our boat tour at Wat Paknam Bhasicharoen (วัดปากน้ำภาษีเจริญ), the wat or temple is a royal wat that proudly houses The Phra Buddha Dhammakāya Thepmongkhon which is a 240 foot tall sitting Buddha that has over 6kg of gold build into the heart of the statue. After spending some time with our guides learning about some of the thai buddist monastery functions, artifacts and traditions we got into three long tail boats to cruise the extensive canal system. Bangkok's canals or called Khlongs in thai criss cross the city and date back to the 1700's when the city was first founded. There are 1,682 canals in Bangkok, totalling 2,604 kilometres in length and they serve as another conduit of transportation to move Bangkok's 10 million population! Seeing the city not from the perspective given from highways and main roads gives you an intimate glimpse into the daily lives and living conditions of those who call Bangkok their home. It is always interesting to see people's homes, the temples they visit, and the markets the shop at from the local's point of view, where you get a much more raw and real view versus the more curated view from the front door. We finished the day back at the hotel with a banquet dinner where we were treated to local thai dishes and coconut ice creame and chocoate brownies. We were off to bed for only a few short hours before we were due back to the airport for the final leg of our journey into Bhutan.
Some quirky facts we learned about Thailand:
It is illegal to leave your house and not wear underwear.
Bangkok holds the record for the average warmest capital city on earth.
Bangkok's real name is: Krung Thep Mahanakhon Amon Rattanakosin Mahinthara Ayuthaya Mahadilok Phop Noppharat Ratchathani Burirom Udomratchaniwet Mahasathan Amon Piman Awatan Sathit Sakkathattiya Witsanukam Prasit. This subsequelty gives Bangkok the record for longest city name. 
You cannot drive a vehicle without wearing a shirt.
It is illegal to step on Thai currency.