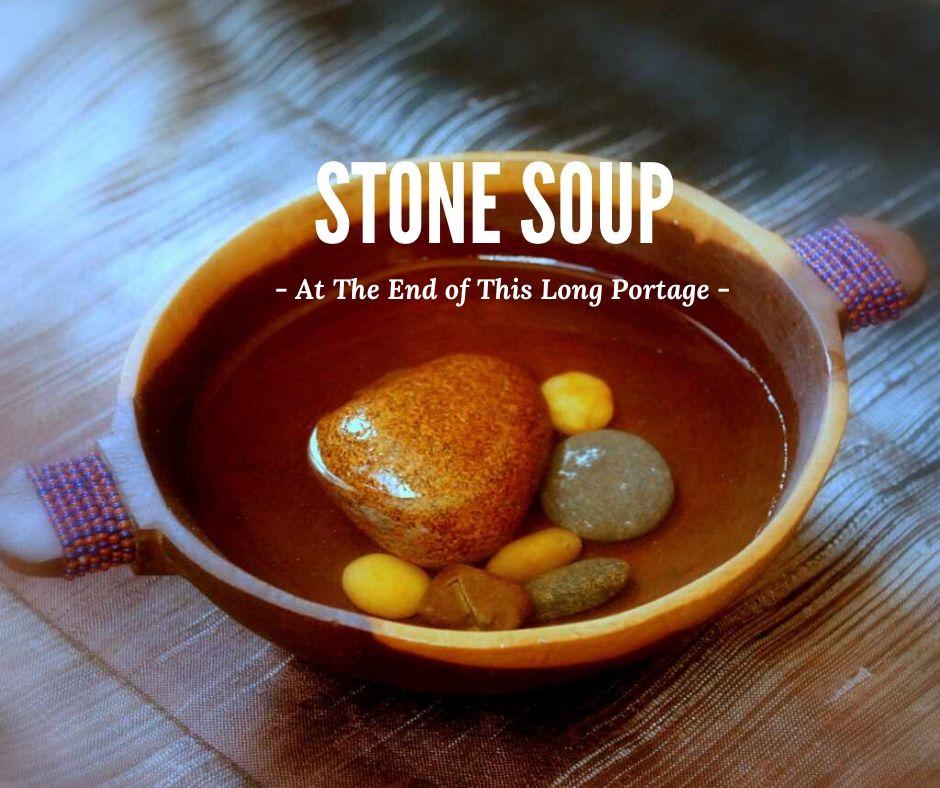 About a month ago, on a cold crisp February evening, I walked across frozen Lake Koshlong with a bunch of Grade 4 students and faculty. Candle lanterns led our way to a crackling campfire. We shared hot chocolate under the stars while I read them the book Stone Soup. If you don't know it, it's a folktale, in which hungry travelers convince the people of a town to come out of their homes and each share a small amount of their food in order to make a delicious soup. Essentially it's a book about the value of sharing, the value of community and it highlights that by working together, with everyone contributing, a greater good is achieved.
While we may not be able to come together in person, I keep coming back to the simple lessons of that story. There has never been a more important time for us to work together, and yet coming together looks different than many of us have ever imagined. Coming together, while staying apart seems so odd. This may very well be the greatest dichotomy of our lives.
Over the last 10 days I have experienced the beauty of our ALIVE community. Given everything going on in the world, I have been amazed at how many friends, colleagues and clients have reached out wondering how ALIVE is doing in this unprecedented time in our history. My immediate thought through all of this has been that a name like ALIVE has to stand us in good stead! It's a great reminder that we are not only here to teach about resilience, courage, core values, leadership, moving beyond our comfort zones, independence, trust, etc. but we are also supposed to live it ourselves. I don't think there is one person out there at the moment who is not feeling out of their comfort zone, even though most of us are in our own homes. We must remember to be kind and gentle with each other, now and always. Yes, we cannot run our ALIVE programs at the moment, and as a small business that is daunting, yet everyone is feeling the same way. We are all marinating in a melting pot of endless emotions. While each of us may feel alone at times, we are not. We must remember that people are simply a phone call/text/email away.
We have received several notes from people telling us that they have deepened their understanding of some the lessons they have learned over the years at our programs. It has been heartwarming to hear from people that they are seeing the value of a strong community, the importance of tapping into their strengths, the necessity of compassion, listening, trust, respect, courage, resiliency, and of course, the value of getting outdoors. Just this morning, one past participant suggested that we are on a very long portage, and as always, we have to work together to get everyone to the end before we can get back in our boats and paddle in the sunshine. I like that analogy.
The Stone Soup story concludes like this, "Everyone thanked the travelers for the marvelous stone soup and asked him for the secret. The traveler revealed to them that it was not the stone that made the soup taste good, but all the other ingredients that everyone contributed. He added that in life, as in the case of the soup, if everyone pitched in a little something, a wondrous thing will come out of such an undertaking. The villagers thanked the traveler again for his words of wisdom. From that time on, the villagers became kinder and more helpful to one another. So, the traveler, satisfied, went on his merry way, determined more than ever to share the secret of his stone soup to anyone who cared to listen."
I wish we could all come together around a roaring fire and make our own version of stone soup, but for now, let's stay connected in other ways. We plan to do more writing, reading, and working intentionally to stay in touch. Please do the same.
Take good care everyone, and no matter how long it takes to get to the other side of this portage, there will be beauty waiting for us at the end of the trail.