Royal St. George's College School and St. Mildred's-Lightbourn School
Global Learning Trip Portal - Bhutan 2023
In 2015 a friend said to me, "What's your dream destination?" That was an easy one. The Kingdom of Bhutan.
In 1999, while trekking the Annapurna Circuit in Nepal, I heard from many other travelers that Bhutan was not to be missed. A few years later I saw a photo of Taktshang Goemba (Tiger's Nest) on the front of a travel magazine. I was into the early days of building ALIVE Outdoors, so I tucked that dream aside, hoping that I would get there one day. The Bhutan Lonely Planet sat in a prominent place in my living room for well over a decade as a reminder to work towards my dream.  As ALIVE took shape, it became more and more obvious to me that the lessons that Bhutan has to offer are truly aligned with the values I have been dedicated to for much of my life.  At its core, the work we do at ALIVE is aimed at helping young people deepen their connection with themselves, their peers, and the natural environment. It's about learning to think and care about others, and how to nurture meaningful relationships. It's about the value of teamwork, taking thoughtful risks in the name of personal growth, and the importance of self-efficacy. In the end, it's about learning to be a good, competent person. 
The first time I took students to Bhutan was in 2017 and what struck me was how this tiny Himalayan Kingdom really is a role model for us all in countless ways. Their population of just under 800,000 people are seemingly united in their values. No doubt the fact that it's a predominantly Buddhist nation is one reason for their unity. Another reason is their government has placed an emphasis on well-being and happiness. There is a dedication to environmental protection, and the one thing students commented on in both 2017 and 2019 was how kind the people were to them.
We will see what this 2023 adventure brings us. As most of us know from our own travels, some lessons come immediately, and some come in time.  Stay tuned for student reflections from our journey. We look forward to sharing our experiences with you.
Have Family and Friends Follow Along
... Share a link to this page through one of the social channels below
Reports and Photos from the Trip
The trip field reports will be updated periodically throughout the trip. Check back often to read the most up-to-date student reports. We recommend sharing this page with any family or friends who would like to follow along on the group's adventure in Bhutan.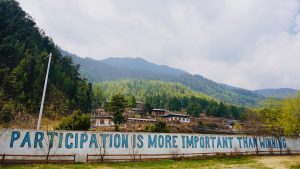 Even a week later it feels nearly impossible to express just how incredible the Kingdom of Bhutan was. As I'm sitting in my living room,
Read More »
In addition to the photos embedded in the Field Reports, we will periodically upload new photos to below image gallery.