The Kingdom of Bhutan -
March Break 2023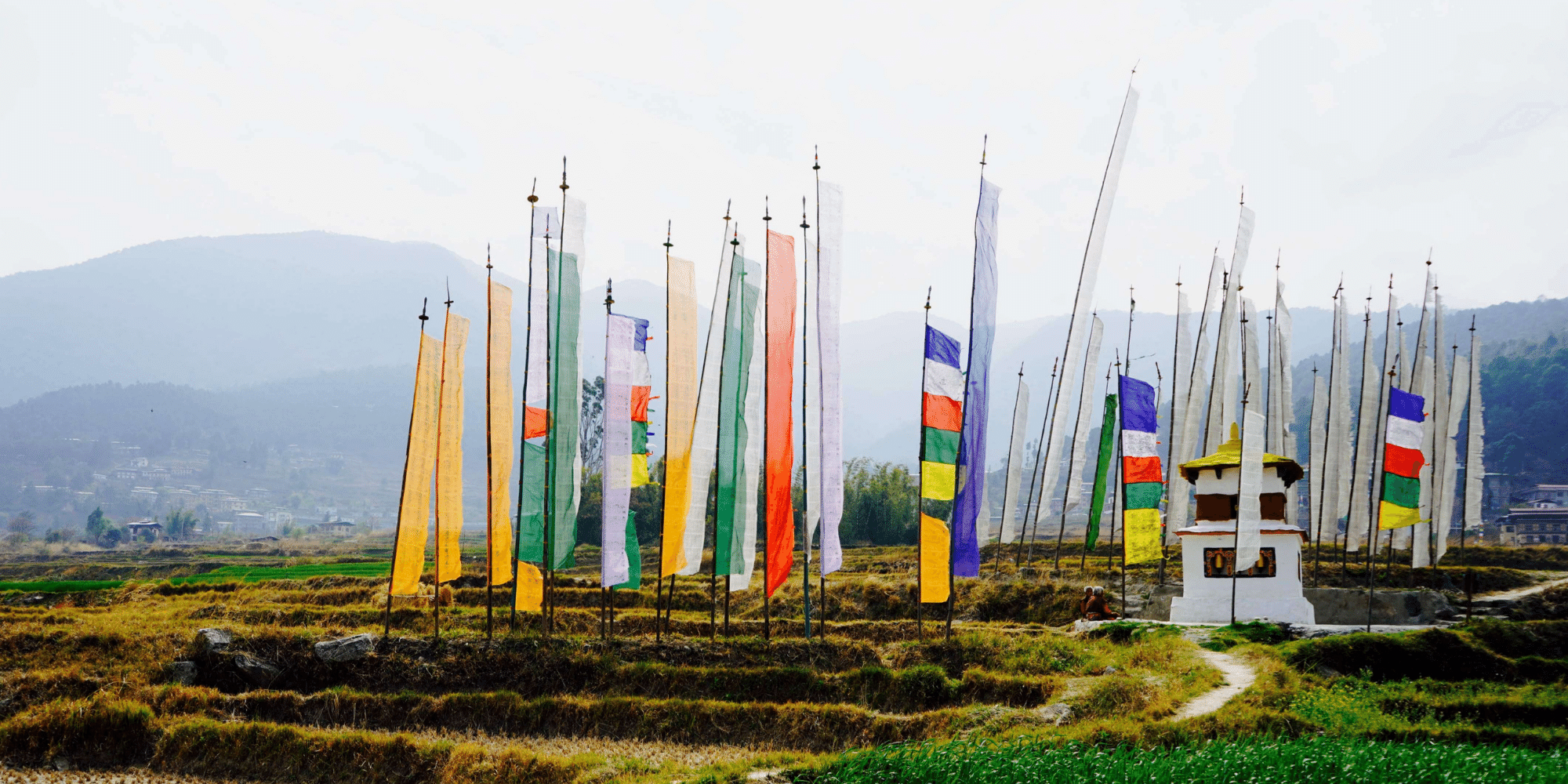 Image Slide 1
We travel not to escape life, but for life not to escape us.
Image Slide 3
The real voyage of discovery consists not in seeking new lands but seeing with new eyes.
Crescent School & Havergal College
Follow along on the Bhutan 2023 Trip.
Royal St. George's College & St. Mildred's-Lightbourn School
Follow along on the Bhutan 2023 Trip.
ALIVE Women's Expedition
Follow along on the Bhutan 2023 Trip.
Participant commitment and deposit required by middle of October 2022 (final deposit/commitment date will vary by school). Spots are limited. Please express your interest early.
A place unlike anywhere else on Earth
There is a place that not many people have had the opportunity of visiting called the Kingdom of Bhutan. We had the privilege of spending time there with students in 2017 and 2019, and we are excited to be offering this opportunity to schools that we have worked with during March Break 2023. We are doing this for several reasons, but the main driving force is because we believe that Bhutan's palpable, calm energy, coupled with its stunning Himalayan landscape, it's spiritual teachings and low-volume approach to tourism make it an ideal location for us to share an incredible journey where all participants can not only reground and connect with themselves after these very challenging few years, but also learn many important life lessons.
Highlights From Our 2017 Trip
Explore the Student Experience from our Student Learning Blogs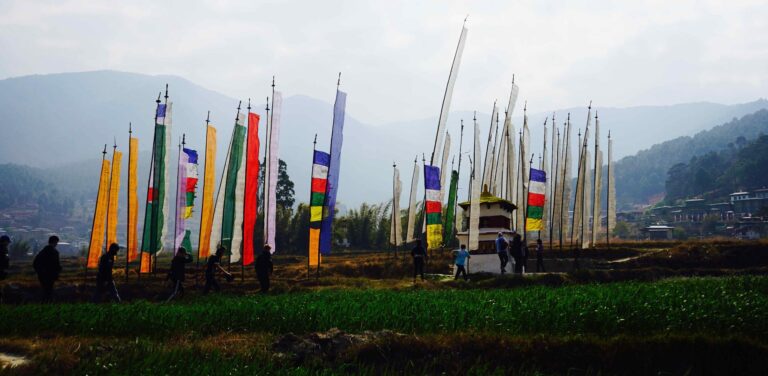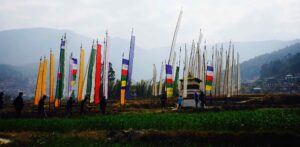 The Kingdom of Bhutan is a country all about happiness. This differs so much from most other countries in the world. Back in Canada, I never learned to prioritize happiness.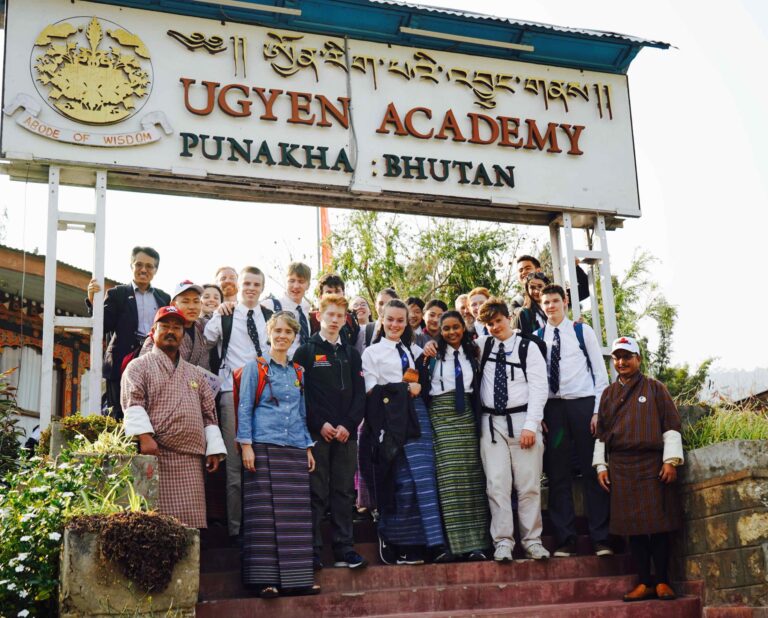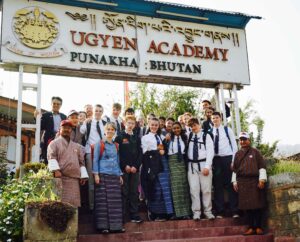 Beaming faces greeted us as we walked into the grade nine Dzonka class at Ugyen Academy. These new faces would soon become close friends over the duration of the day.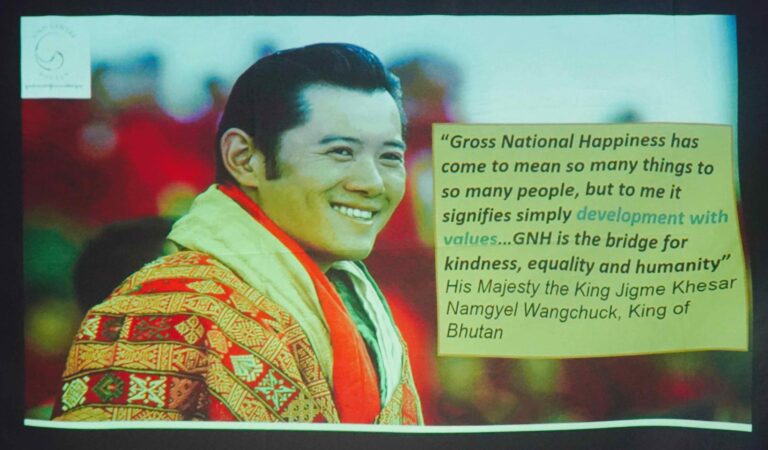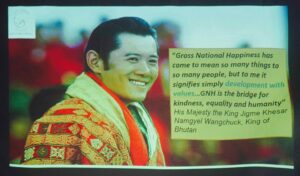 Heading into this trip, I didn't know what to expect. In all of the presentations and meetings leading up to our departure, the bar was set really high; yet I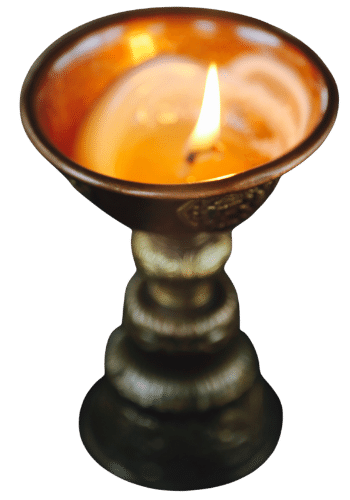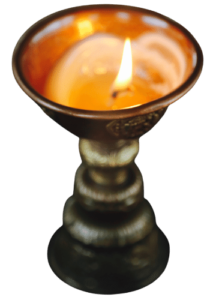 We love bringing students and staff together from different schools
It allows for a dynamic experience where new friendships can be forged, shared learning can occur and meaningful memories can create deeply rooted connections. We are hopeful that we will draw together a group of students and one or two teachers from any school that has people interested in joining the journey to this small Buddhist country where monasteries and dzongs 
(fortresses) spot the forest, where the mountainous landscape is stunning, and where the local people have a generosity of spirit that is sincerely genuine. Each travel group will be comprised of no more than 18 participants. An ALIVE instructor will join each group, as will Bhutanese guides and a dedicated professional bus driver from our partner organization Good Karma Travel.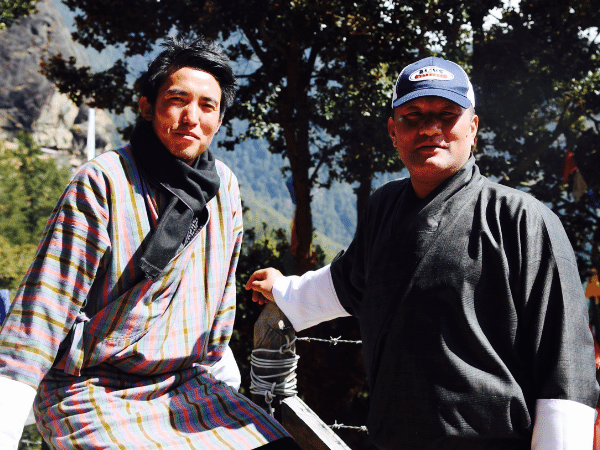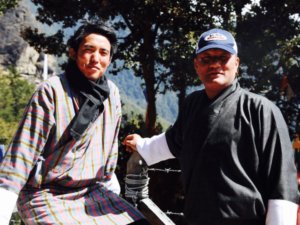 Our Incredible Bhutanese Guides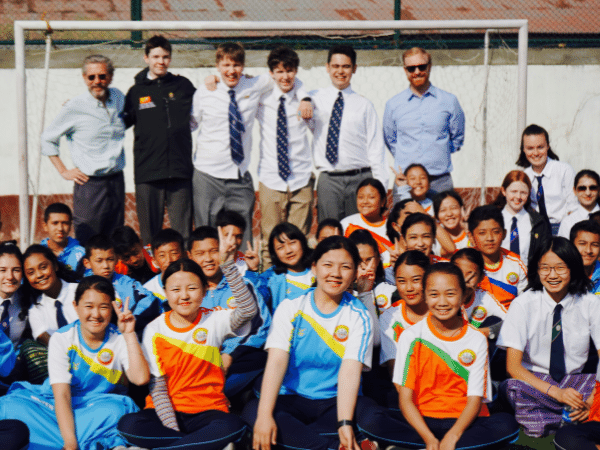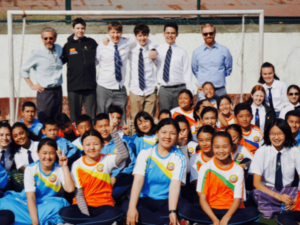 Connection with Local School Partners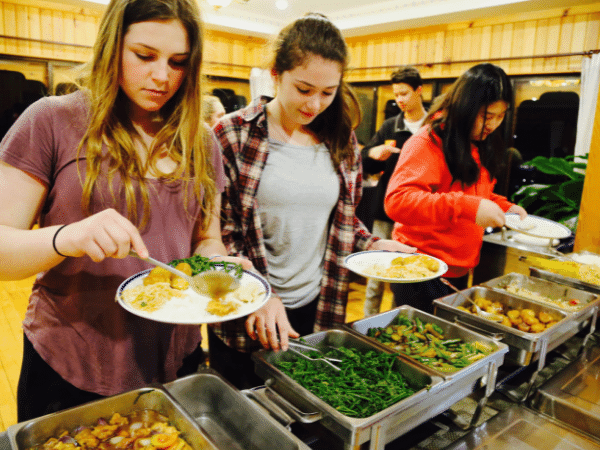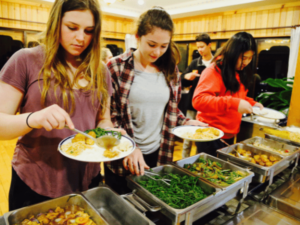 Tasty Local Meals With Lots of Options
The Kingdom of Bhutan Global Learning Itinerary and Details
Each group will have their own itinerary, however there will be some similarities to their experiences.  
Dochula Pass

, a collection of 108 chortens and prayer flags.

Memorial Chorten 

– The

Memorial Stupa

, also known as the

Thimphu Chorten

, is a stupa, popularly known as "the most visible religious landmark in Bhutan." 

Centenary Park and Buddha Point

, where a massive statue of Shakyamuni measures in at a height of 51.5 meters, making it one of the largest statues of Buddha in the world. We will also visit inside the Buddha, where 125,000 smaller Buddhas reside.

Punakha Dzong 

– Punakha Dzong is built on the confluence of the Two rivers Pho chu and Mo chu. It is a magnificent structure and a marvel of traditional Bhutanese architecture. It is considered a pride for Bhutan

Hike to

Taktsang Monastery (Tiger's Nest

), approximately 1000 meters above the Paro valley.  The oldest temple founded in 7

th

century by Tibetan king Songsang Gangpo.

Learning exchange

with students from a local school, overnight, sharing insights with each other about happiness, health, success and personal values.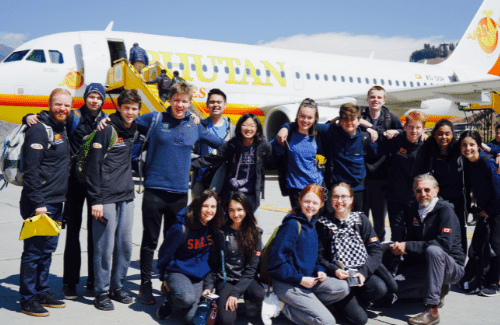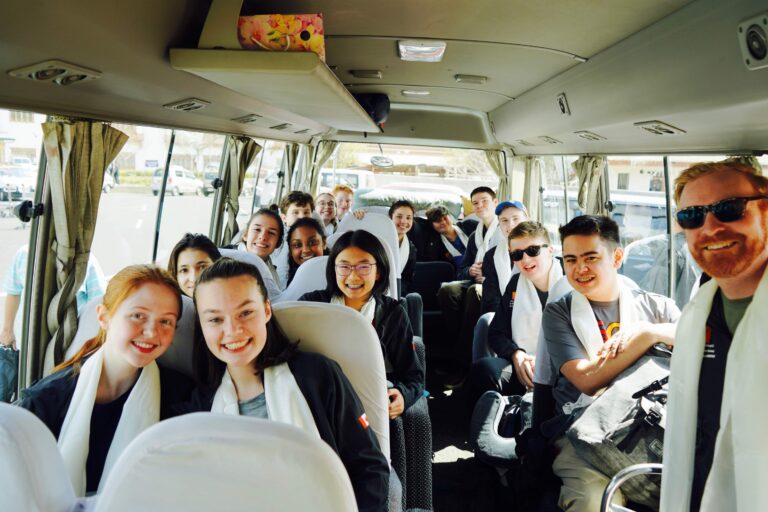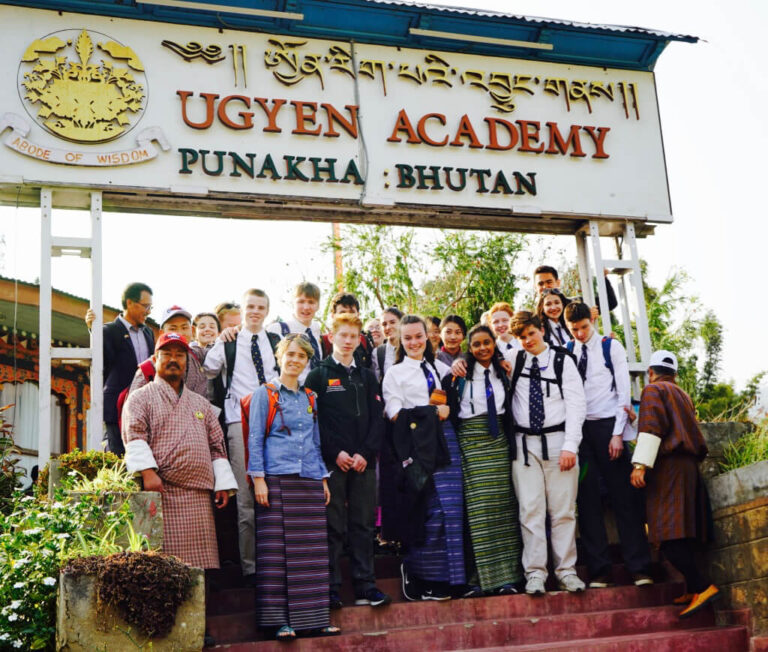 Centenary Park and Buddha Point
Taktsang Monastery (Tiger's Nest)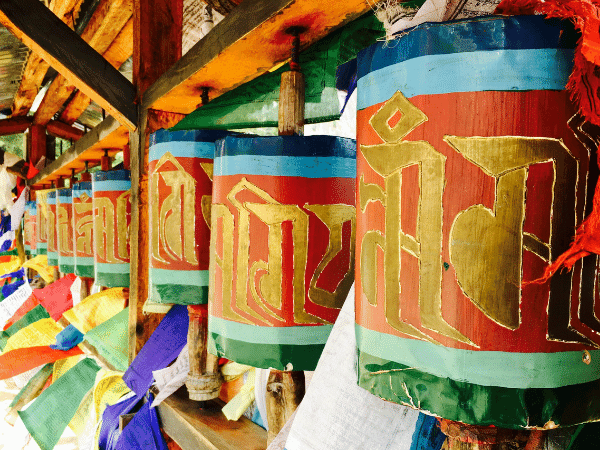 To evaluate and examine our own perspectives and our personal values.

To learn from and share with some of Bhutan's Secondary School students. Everyone has a different idea of what happiness and success looks like. This will be an opportunity to exchange ideas and examine personal values from very different perspectives.

To deepen and expand our worldview.

To be immersed in a society that will contrast the difference in pace and values between a life centered in Western consumerism versus intentional and unhurried living.

To appreciate Buddhist cultural traditions and spirituality, as well as environmentalism and commitment to conservation.
Interested in Learning More?
Our online registration form to receive trip updates is now closed. We have had an incredible outpouring of interest for the 2023 trip. If you are interested in learning more about future Bhutan trips please send an email to [email protected].